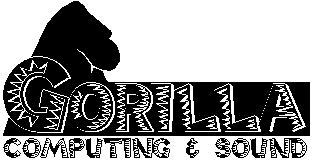 Gorilla Computing & Sound (Chip Dunbar) has been providing complete Apple Macintosh© computer support in Northern California for over 13 years. My clients include large small and businesses, nonprofit organizations, schools and home users/consumers. I provide a wide range of services:
---
Home | Web Work | Creative Digital | FileMaker Pro | Mac Consulting | Music
Questions?--> Email Chip here.
(707) 823-3615
Gorilla Computing & Sound
Sebastopol, CA 95473 USA